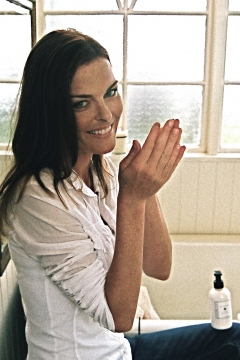 Renée's Top 10 Eco-Beauty Must-Haves
a few of my favorite things....
Astara Radiance Renewal Intense Moisturizer
A rich moisturizing blend to deeply nourish, replenish and repair skin, this triple-action treatment simultaneously stimulates cellular regeneration, protects against free radicals, and intensely hydrates to restore youthful suppleness and radiance to mature and very dry skins. Formulated with the highest quality, low-temperature processed ingredients including Ginseng, Wild Yam, Evening Primrose, Shea Butter, Gingko Biloba, Sodium Hyaluronate, Vitamin E
Crème Ancienne
This ultra rich, remarkable cream instantly rehydrates, increases moisture retention, smoothes and plumps, increases elasticity and firmness, rejuvenates, repairs, and provides environmental protection to dehydrated skin on the face and body. A modern formulation inspired by the work of Claudius Galenus (Galen), a 2nd century scientist and physician who developed the first known skincare cream and used it as salve to treat burns and wounds, Creme Ancienne combines the core ingredients of Galenus' formula: rosewater, beeswax, and borax with modern day ingredients like, chamomile wax, meadowfoam oil, and vitamin E. In order to preserve the legacy, craftsmanship, and spirit of this formulation, small batches are prepared entirely by hand in a monastery, with each jar taking up to two days to produce.
ColoreScience Suncanny Foundation Brush – SPF 20
Light as a feather texture that can be easily applied with a brushstroke for sun protection and a natural, flawless finish
Micronized zinc oxide and titanium dioxide for full-spectrum UVA and UVB protection
Very water resistant – passes a 6 hour water test - Available in 11 shades
Intelligent Nutrients Lip Delivery Nutrition
This earthy, elegant twist up lip balm touts super-antioxidant Intellimune Seed Oil Complex, an anti-aging blend of black cumin, pumpkin, red grape, red raspberry and cranberry seed oils and other nutritious food-grade oils. I love the dimensions and the smooth lip-appeal and never leave home without it.
John Masters Blood Orange + Vanilla Body Milk
This luxuriously silky, certified organic lotion is light-weight and fast-absorbing with a sumptuous scent and nutrient-rich ingredients. Blended with antioxidant-rich milk thistle, soothing aloe vera, collagen-forming blood orange, hydrating se extracts, healing arnica, nourishing oils, and steam-extracted essential oils for a perfect formula to moisturize, hydrate and protect skin.
Josie Maran Argan Oil
Argan oil is a legendary beauty elixir with roots that reach back millennia to hydrate, nourish, and protect skin. With a natural dowry of skin-beautifying Vitamin E, essential fatty acids and antioxidants, Josie Maran Argan Oil is organically grown in Morocco and is purchased from women's cooperatives to support social and economic sustainability. This lightweight oil is perfect as a daily moisturizer on its own or my favorite is to mix a few drops with facial moisturizer for a deeply nourishing blend.
Jurlique Foaming Cleansers
These facial cleansers tap botanical intelligence to lift and remove surface impurities leaving skin clean, balanced and hydrated. Born from biodynamic botanical blends and defined by sustainable connections to humans, farms and the earth, Jurlique's fantabulous formulas are unsurpassed in quality and take an approach to rebalance skin instead of simply treating symptoms of dryness, oiliness and sensitivity.
Take your pick to please your puss: This stuff is divine.
Mermaid Beauty Seaweed Moisturizer
An ambrosial blend of skin-renewing Hawaiian seaweed extracts, potent antioxidants, GLA-rich borage, skin-protecting oat beta glucan, extracts of organic nettle and rosebud infusions, aloe vera, shea butter, olive-extracts squalane and pure essential oils locally distilled on Maui. Each ingredient in this nutrient-rich moisturizer is in its purest and potent form and exquisitely crafted in small batches by an unpretentiously wonderful company with decades of experience and a dossier of efficacy. Mermaid Beauty is a superlative secret to rejuvenate, nourish and revitalize skin (especially sun-exposed skin) with remarkable results.
Pharmacopia Organic Lavender Body Lotion
I am addicted to this lotion. The soothing blend of skin-drinkable certified organic ingredients is infused with herbs, emulsified oils, skin-healing shea butter, a distinctive blend of antioxidants, vitamins, and exceptionally high-quality essential oils that elicit aroma-therapeutic delights for all of the senses, Pharmacopia body care products are designed with the utmost integrity to keep skin healthy and supple, naturally. Absolutely zero synthetic ingredients are used, just pure, plant-based good stuff that smells like heaven.
Suki Pure Exfoliate Foaming Cleanser
This organic AHA rejuvenator is one of my all-time favorites to brighten and cleanse skin deeply and gently for deliciously soft and supple results. Formulated with organic lemongrass, organic non-GMO rice flour, organic chamomile extract, and natural sugar to exfoliate dead skin cells, remove toxins, purify, stimulate and soothe precious facial skin. Ridiculously good!