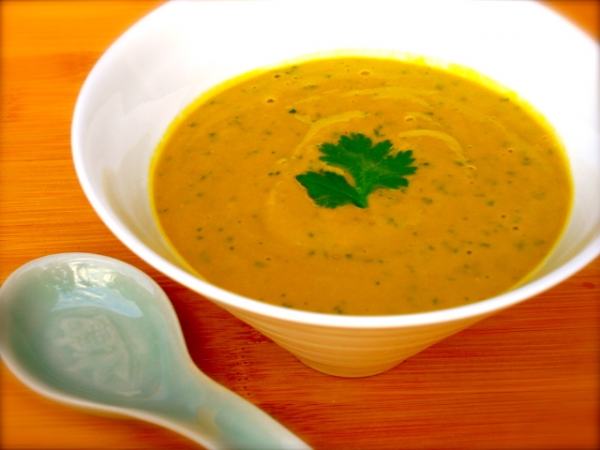 Carrot Ginger Coriander Soup (raw) (VIDEO)
This is one of my favorite simple soups. Fresh carrot juice and creamy avocado are a luscious match. Seasoned to perfection with fresh ginger, cilantro and coriander.
Yields: 2 to 4 servings
INGREDIENTS:
2 cups fresh carrot juice
2 teaspoons minced fresh ginger (add more for a little more warmth)
1 medium avocado
1/2 cup fresh loose cilantro
1/4 cup fresh loose parsley
2 teaspoons coriander seed, (whole coriander seed freshly ground is best)
1 tablespoon good olive oil (optional)
2 tablespoon nama shoyu
pinch sea salt and freshly ground black pepper to taste
PROCEDURE:
Blend carrot juice, ginger and avocado at medium-high speed until smooth.
Remove cilantro and parsley leaves from the main stems.
Add in de-stemmed herbs, coriander seeds, oil, and nama shoyu.
Blend in pulses at medium speed until mixed. It is preferable to still see small pieces of herbs rather than a uniform smooth color made pale-green from the herbs.
Garnish with cilantro.
SERVICE
Serve slightly chilled.
LEFTOVER STORAGE
Store in a sealed container or jar in the fridge for up to 2 days.