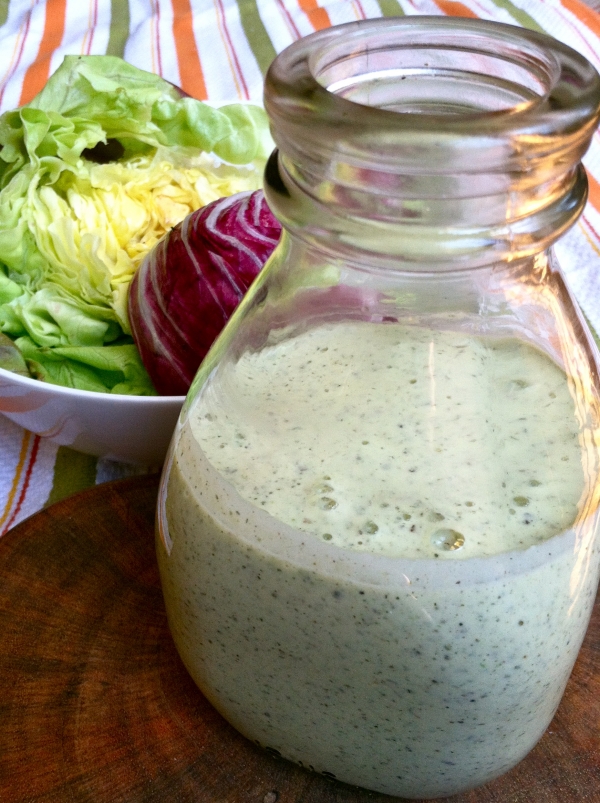 Hempseed Peppercorn Ranch Dressing (raw, vegan)
Creamy, zesty, spicy and bright. Perfect to toss with crunchy romaine lettuce, tender baby spinach and arugula or with a chopped salad. Hempseeds are one of nature's perfect foods: the optimum balance of omega-3, -6 & -9 and a prime source of complete plant protein. I've played and tweaked this recipe to hit all the notes of a classic ranch dressing but without diary or refined ingredients. It's something I often have a stash of in my fridge to easily turn a bowl of veggies into something sensational.
Yield: about 2 cups
INGREDIENTS:
½ cup hulled hemp seeds
½ cup olive oil
1/3 cup filtered water
4 tablespoons lemon juice, or more to taste
2 teaspoons apple cider vinegar
1 teaspoon umeboshi plum vinegar
2 scallions (whites and greens), chopped
1 teaspoon white miso
1 teaspoon whole black peppercorns
1 1/2 teaspoons dried dill
½ teaspoon garlic powder
¼ teaspoon salt, or more to taste
PROCEDURE:
Blend all dressing ingredients in a blender at high speed until smooth.
SERVICE
use your imagination
LEFTOVER STORAGE
Store in a sealed glass jar in the fridge for up to 1 week.