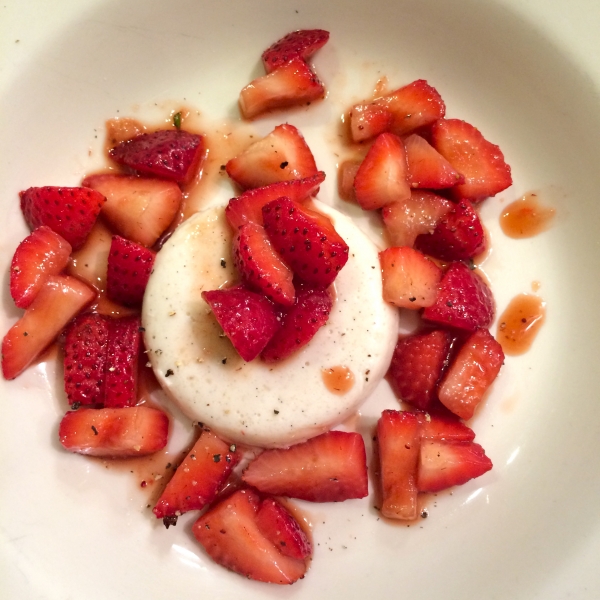 Vanilla Bean Panna Cotta with Aged Balsamic Strawberries (raw + vegan)
This velvety, creamy panna cotta is completely vegan and raw. Made with coconut water-infused almond milk, young coconut meat and ample vanilla bean, the texture is perfected with the use of Irish Moss, which is a seaweed that acts to thicken and gel this blend beautifully.
Yield: 6+ servings
INGREDIENTS:
Vanilla Bean Panna Cotta:
2/3 cup soaked almonds
2 cups + 2 tablespoons coconut water
1/3 cup Irish Moss, cleaned, soaked for 12 hours in filtered water, drained and rinsed
thoroughly, cut into pieces with kitchen scissors
½ heaping cup young coconut meat
¼ cup maple syrup
seeds of 1 vanilla bean
1 teaspoon vanilla extract
pinch unrefined sea salt
¼ cup + 1 tablespoon coconut oil, melted

Aged Balsamic Strawberries:
3 cups chopped strawberries (about 1 ½ pints)
1 ½ - 2 tablespoons aged balsamic vinegar (choose one that is thick and syrup-y) – or 2-3
teaspoons balsamic vinegar + 3-4 teaspoons maple syrup
1-2 tablespoons maple syrup, to taste
scant 1/8 teaspoon freshly ground black pepper
PROCEDURE:
Vanilla Bean Panna Cotta:
1. In a blender (preferably a high-speed blender), place soaked almonds and coconut water. Blend at medium-high speed until very smooth. Strain through a nutmilk bag or line a strainer with a double layer of cheesecloth and pour through. Squeeze to remove as much liquid as possible.
2. In a high-speed blender, place almond milk, Irish Moss, coconut meat, maple syrup, vanilla and salt. Blend at medium-speed, then increase to high speed until completely smooth. This will take 1 to 2 minutes. Scape down the sides of the blender with a rubber spatula and be sure every last piece of Irish Moss is blended smooth.
3. Grease the insides of 6 ramekins, molds or espresso cups with coconut oil (if you are planning to serve in the ramekins/cups, no need to grease). Pour mixture in to fill to desired height. Chill in the fridge for at least 2 hours or until set and firm.

Aged Balsamic Strawberry Sauce:
1. In a bowl, toss together all ingredients. Let stand 15-30 minutes.
2. Sauce may served as is (chunky), mashed with a fork (textured), or blended until smooth.
SERVICE
1. Invert ramekins/molds/cups onto a serving plate.
2. If the panna cotta won't easily slip out, dip the ramekins/molds/cups in a bowl half-full of hot water for 5-10 seconds. Place your thumbs on the top and hold the plate with your fingers and gently shake the plate. Be careful not to get the hot water in the panna cotta in the process.
3. Spoon Aged Balsamic Strawberries Sauce around the panna cotta and a bit on top, including the juices.
LEFTOVER STORAGE
Store leftovers in a sealed container in the fridge for up to 4 days.