Celery Root Noodles + Shaved Brussels Sprouts with Aged Balsamic Aioli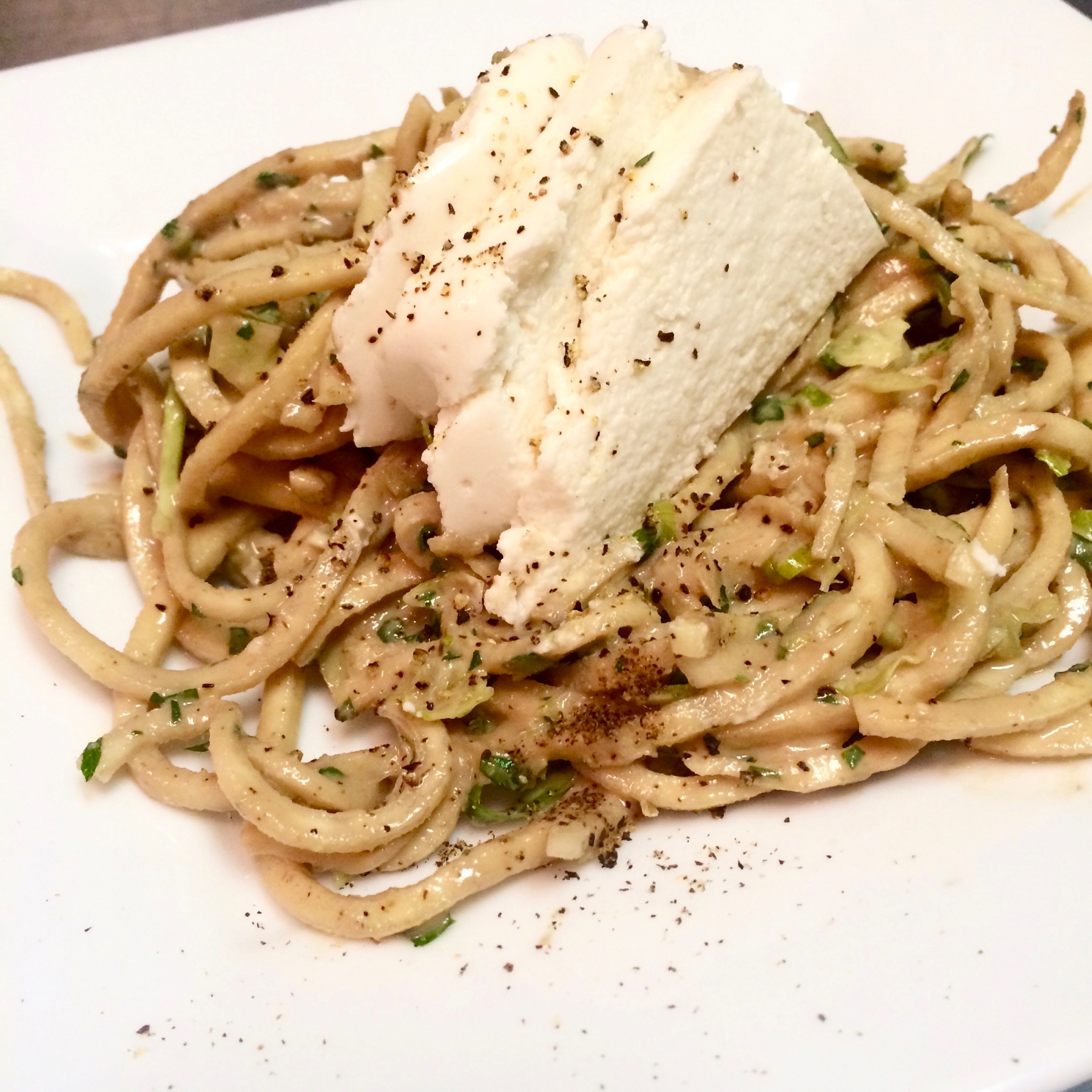 Celery root is an unsung root veggie with a distinctive, savory celery flavor and clean, light color beneath its gnarly skin. This fall-centric combo of flavors and textures is at once nourishing and fresh. Once dressed, the flavors just get better. Shown here with a plant-based Almond 'Feta'. Recipe for that to come…
Yield: 3-4 servings
INGREDIENTS:
Aged Balsamic Dressing:
2 heaping tablespoons soaked walnuts
2 tablespoons aged balsamic vinegar
1 tablespoon + 1 teaspoon umeboshi plum vinegar
1 teaspoon balsamic vinegar
1 teaspoon maple syrup
1/8 - ¼ teaspoon sea salt, to taste
¼ teaspoon freshly ground black pepper
6 tablespoons olive oil
Brussels & Celeriac:
½ lb. Brussels sprouts, trimmed, sliced thinly on a mandolin or by hand
1 medium celeriac, trimmed, peeled, sliced into threads on a spiralizer or saladacco
2 scallions, thinly sliced
¼ cup chopped flat-leaf parsley
¼ cup Castelvetrano olives, pitted and chopped
PROCEDURE
Aged Balsamic Dressing:
In a blender (preferably a high speed blender) combine all ingredients except olive oil. Blend at high speed until smooth. If necessary to aid blending, add 1 tablespoon of olive oil. With the motor running, drizzle in olive oil in a slow, steady stream until emulsified. Season to taste with salt as desired.
Brussels & Celeriac:
1. Prepare vegetables as directed.
2. Make a few cuts into the celeriac root to shorten the threads for easier serving.
3. Toss together all ingredients.
Assembly:
Add dressing to vegetable mixture and coat and toss. The salad should be lightly dressed and you may have dressing left over.
Garnish with freshly ground black pepper