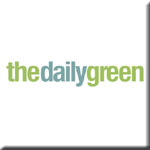 The Daily Green A New Green Book Hopes to Solve Life's Eco-Dilemmas
November 2009
by Gloria Dawson
With all the green books out there it was hard to summon up enthusiasm for another one. But, few are as thorough as the Whole Green Catalog. The cover announces "1,000 Best Things for You and the Earth" and this book delivers. As you come up against different eco-dilemmas in your life, the book encourages you to flip through and find the solution. The Whole Green Catalog choose green experts in categories from green pet care to gardening to give you bite-sized pieces of information in an approachable manner. These authors drew upon their years of experience to offer readers tips, reviews and current product information.
I spoke with Renée Loux, the spokeswomen for the Whole Green Catalog, who wrote the book's introduction and cleaning, clothing and beauty sections. Loux is an author, restauranteur and the host of It's Easy Being Green on the Fine Living Channel.
TDG: Who do you hope reads Whole Green Catalog?
All beings that breathe oxygen have opposable thumbs and a wallet. And anyone who has, or hopes to have, offspring.
TDG: There have been lots of green books published in the last few years, what is different about Whole Green Catalog?
First, the breadth of categories is unparalleled - from clothing, housekeeping and natural beauty, to energy, transportation, travel and recreation, to food, gardening, money, medicine and even pets. It's the best and brightest green goods and services for everything under the sun. Most importantly, it's very well filtered and well organized, meaning we have done the homework and editing so readers don't have to. Prominent green experts and thought leaders have chosen each and every item as the best of class in the green marketplace with a keen eye to marry form and function. What makes the Whole Green Catalog so accessible is that it's designed as a browser book. We don't expect anyone to read it straight through, and we didn't structure it that way. It's designed for readers to peruse, consult, discover and choose. It's full of surprises and delights, including great FYIs and tips that cut right to the chase.
TDG: The Daily Green's own Brian Clark Howard writes the chapter on green power for the Whole Green Catalog, how were the authors chosen?
We scouted for the best green experts in different fields to recruit them for their depth of knowledge and experience to bring forward the most seasoned and prime information. This publication is the result of an incredible effort of a dynamic team of contributors, designers and editors. No small feat! By inviting some of the brightest green thought leaders to lend their words and wisdom, we kept the spirit of the original Whole Earth Catalog alive by gathering and generating information from many sources and feeds.
TDG: If Whole Earth Catalog was the guide to green living in the 1960s, Whole Green Catalog is perhaps the current guide. What's changed in green living? What are some topics that are covered in Whole Green Catalog that the writers of Whole Earth Catalog couldn't have imagined?
The original Whole Earth Catalog was a truly revolutionary publication - a cornerstone of a generation that helped to define the credo of the age. One that was considered an alternative lifestyle then, and now is much more recognized and embraced by the mainstream. Green has become a household word. It's no longer relegated to the left-leaning, tree-hugging populous. There has been a tremendous shift in green living. There's been a tremendous shift in everything. You have to remember, when the first Whole Earth Catalog was published in the late 1960s, there was no such thing as a personal computer. It was all done with Polaroids and scissors and everything was via mail order.
Today, access is at our very fingertips. Our dynamic depth of access is something that the original writers probably could never have imagined, but something they may have dreamed of. The original publication was the birth of spherical thinking, like an analog Internet. Steve Jobs said that the original Whole Earth Catalog was like Google 35 years before Google existed. But even in the past decade there has been a significant coming of age of green living. Many of the obstacles no longer exist. The Whole Green Catalog helps to fell some of the stigmas attached to green living, illustrating that it's no longer necessary to sacrifice comfort, convenience or performance in the name of being green and that green living doesn't have to do with your zip code or income bracket either.
As for topics that the original writers couldn't have imagined, I would say that each and every topic has evolved unimaginably since the original publication. Eco-fashion has come a long way, baby eco-centric casual and couture clothing no longer means wearing burlap sack garments or back to the land fashioned garb. The advancement of fiber technology has brought a number of incredible eco-friendly fibers that exist today that did not exist then. Similarly, natural beauty and personal care products have evolved into a sophisticated sector of goods. Eco-technology is another topic that simply didn't exist and does now and home-building and green investing/money managing has grown and developed tremendously in ways unimaginable 40 years ago.
Whole Green Catalog is published by Rodale. It is available at Barnes and Noble.