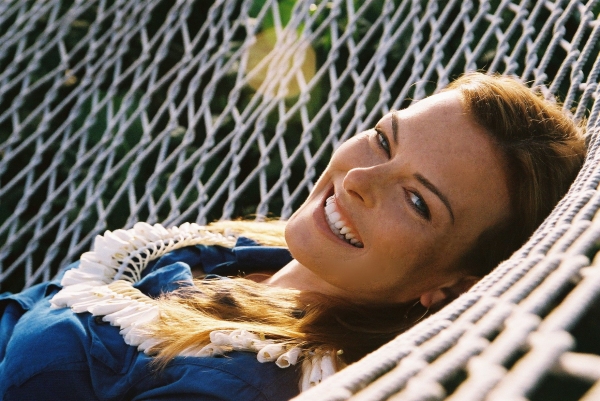 Honolulu Advertiser Beauty the Natural Way
August 18, 2008
Mary Kaye Ritz
It's not that hard to get vegan chef/green living expert Renée Loux up on her soapbox.
At least, she jokes, "it's a biodegradable one."
But on it the Maui author will stand, extolling the virtues of organic living and finding one's natural beauty from the inside out.
Loux hopes to make it easy to be green. It helps that the TV host hottie is full of health and beauty tips herself. Just back from Europe, her trick to staying healthy on the long flight is to coat the inside of her nostrils with some salve or natural lip balm to protect those delicate nasal passages. ("In a plane, it gets very dried out.")
It's been an amazing year for the longtime eco-advocate, who described the current wave of green trendiness as perhaps "the 100th monkey syndrome."
She's referring to the phenomenon of how social changes spread quickly once a good idea is adopted. It's based on the story of how 99 monkeys made the same old mistake until the 100th figured out a solution, which is then quickly adopted by the rest.
"Now, (environmentalism) is a nondenominational issue," she said. "It doesn't matter your politics, religion, ZIP code. It reaches through, cross-cuts society, to our very existence."
What caused the rest of the world to see things the way Loux long has? She credits Al Gore's 2006 "An Inconvenient Truth" for planting the seed, and Vanity Fair's inaugural Green Issue of April 2006 for adding an extra spotlight.
"Vanity Fair, the respected, uber-magazine," Loux marvels, recounting the story of how Graydon Carter's wife, Anna, who is ecologically oriented, petitioned him to do a green issue.
"Finally, I'm sure, she just hammered at him to do it," Loux says. "Before the issue came out, they were quaking over there. Were they about to destroy their image? Was it (going to be seen as a) left-leaning, tree-hugging, granola issue?_"Then, guess what happened. That became Vanity Fair's best-selling issue by a long shot. Suddenly, it's fabulous to be green and it opened it up to a whole other stratosphere."__Personally, it hasn't been a bad stretch, either. Her TV show is in full swing; a third book is out; and Loux will be editing a book project based on a green version of "The Whole Earth Catalog."
She's just launched a skin-care line, GRN, that's supposedly using food products "nearly so clean, you could practically eat them," Loux says with a laugh.
If you're a subscriber to digital cable, you may recognize Loux from her show on Fine Living network, "It's Easy Being Green," with guests like her good buddy Helen Hunt ("an elegant beauty").
Hunt isn't her only famous pal: Vegan Alicia Silverstone stood up with her at her wedding. And Mike Myers, the guy who voiced our favorite jolly green ogre, Shrek, penned the introduction to her latest book.
Loux's acquaintance list is pretty long and definitely stellar. Loux's husband, entertainment mogul Shep Gordon, even helped arrange the Dalai Lama's recent visit to Maui. Loux goes into raptures when she talks about that experience._"There's just something about it," she said. "It's hard to say without being new-agey. His presence is so inspiring. He emanates peace and every cell in his body emanates compassion. I just get filled with such a sense of inspiration."
RENÉE LOUX
Age: 32
Resides: A Hawai'i resident for the past 13 years, she moved here from New York. She lives on Maui.
Occupation: Vegan chef, TV show host and author of several books; the latest is "Easy Green Living" (Rodale, paperback).
Married: For three years to show-biz mogul Shep Gordon.
Her tips for being a natural beauty:
• Rotate beauty products and keep makeup to a minimum. (She loves what the ocean does for her skin, and doesn't wear makeup unless on camera - and even then, only mineral makeup.)_
• Invest in a good sunscreen and moisturizer.
• Make sure what goes on your skin is as organic as what goes into your body.
Learn more www.reneeloux.com, www.cosmeticsdatabase.com