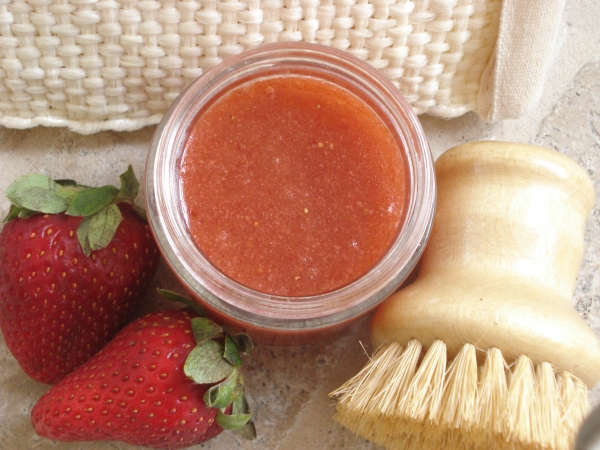 DIY: At-Home Skin-Care Treatments That Work (Women's Health)
Want to save dough and feel like a good-skin wizard? Make your own beauty brews! Here are three recipes to make affordable DIY skin-care treatments that will renew and rejuvenate your skin from head to toe.
STRAWBERRY AND APRICOT OIL SKIN POLISH

This homemade body scrub will rejuvenate dull skin at a fraction of the price you'd pay for a store-bought version. Its exfoliating ingredients include organic cane sugar (with naturally-occurring glycolic acid), plus strawberries and lemon juice (natural sources of alpha hydroxy acids), which help to remove dead skin cells from the body. In addition, vitamin E-rich apricot kernel oil nourishes and conditions the skin for renewed radiance.
What you'll need:

1/3 cup diced fresh strawberries (3 strawberries)

1 Tbsp lemon juice (1/2 lemon)

1 1/2 cups organic cane sugar

2 Tbsp apricot kernel oil (available in the beauty section of natural markets)
How to make it:

1. In a food processor, purée strawberries and lemon juice.

2. Add sugar and apricot oil, and process until combined.

3. Store in a sealed jar or container in the fridge for up to one week.
To apply: While in the shower, use your hands, a loofah, or a washcloth to rub the mixture all over your body. Massage the skin in a circular motion to maximize exfoliation and then rinse.
THE REJUVENATING FACE SERUM

This rejuvenating serum is ultra-hydrating, delivers a clean, fresh feeling, and can be tailored for any skin type. Its primary ingredients include aloe vera, which heals and hydrates skin, plus glycerin, a moisturizing humectant that actually pulls water from the air into the skin and maintains moisture in the layers of skin where it's most needed.
What you'll need:

2 Tbsp pure aloe vera (such as Lily of the Desert brand)

2 Tbsp vegetable glycerin

Plus one of the following:

For brightening and anti-aging: 1/2 tsp vitamin C powder/L-ascorbic acid*

For sensitive skin: 3 drops essential oil of chamomile

For mature skin: 3 drops essential oil of rose

For problematic skin: 3 drops essential oil of lavender

*Not suitable for sensitive skin as it is very active and may sting
How to make it:

1. Combine ingredients and mix well.

2. Transfer to a small, clean glass pump dispenser or a small jar. For optimum storage, keep in the fridge. The chilled serum feels great on skin and will calm inflammation.
To apply: Spread a light layer of serum over clean skin, and lay a warm compress (such as a washcloth) over treated area to allow your skin to fully absorb the serum. Apply additional moisturizer (if needed).
THE SEA SALT AND PEPPERMINT FOOT SCRUB

This fresh-smelling scrub will get your feet sandal-ready. Before scrubbing, soak your feet in warm saltwater. It not only feels heavenly, but also will soften tough skin for maximum benefits.
What you'll need:

1 cup kosher salt

1/3 cup almond oil or olive oil

1 Tbsp peppermint pure-castile soap (such as Dr. Bronner's brand)

6 drops pure essential oil of peppermint

Saltwater (Pour 3 quarts hot water into a basin and mix in 1/4 cup Epsom or table salt)
How to make it:

1. Mix all ingredients except saltwater thoroughly in a bowl.
To apply: Immerse your feet in warm saltwater and soak for 10 to 15 minutes, then massage the mixture into your feet for several minutes before rinsing, and give your feet some rest!